Payment Policy & Options
In order to mitigate cash-flow risk and avoid large unpaid or delinquent payments Opticast Media Inc. has had to implement a policy requiring clients to provide proof of payment when balance for invoiced work is above $1,000. Clients will need to provide documentation that payment has been executed or is in process before any additional work can be provided.
Methods of documentation can include:
Screen grab of electronic payment
E-mail notification from 3rd Party (e.g. Gusto, Paypal, Bill.com)
E-mail copy of physical check
After 30 days from the date of any invoice, late payments shall bear interest at the rate of 1.5% per month. Client agrees that Opticast Media Inc. may terminate the contract with no further liability to Opticast Media Inc. in the event the Customer breaches the payment terms set forth herein. Client agrees to pay all reasonable attorney's fees and or other fees or costs if the account is placed with a collection agency or attorney for collection.
Payment Options
Checks
Made Payable To: Opticast Media, Inc
Mail Check To:
3380 Cimmarron Road #4
Cameron Park, CA
95682
Cash App
Payable account name: $Opticast or 530-558-5460
There is no finance charge for processing.  More info about the the platform can be found here – Cash App
Zelle
In some situations, with participating Zelle bank accounts, payments can be made with no processing charges to Opticast's Wells Fargo business account by referencing the associated email account [email protected] when making payment.
Paypal (Client will have to upwardly adjust payment for finance charge)
Payable account name: [email protected]
*Take note if payment is processed via PayPal there will be an additional finance charge applied that will need to be paid in addition to the invoiced amount. Please visit PayPal Finance Charge Calculator to determine payment amount including finance charge.
When on Calculator page do the following: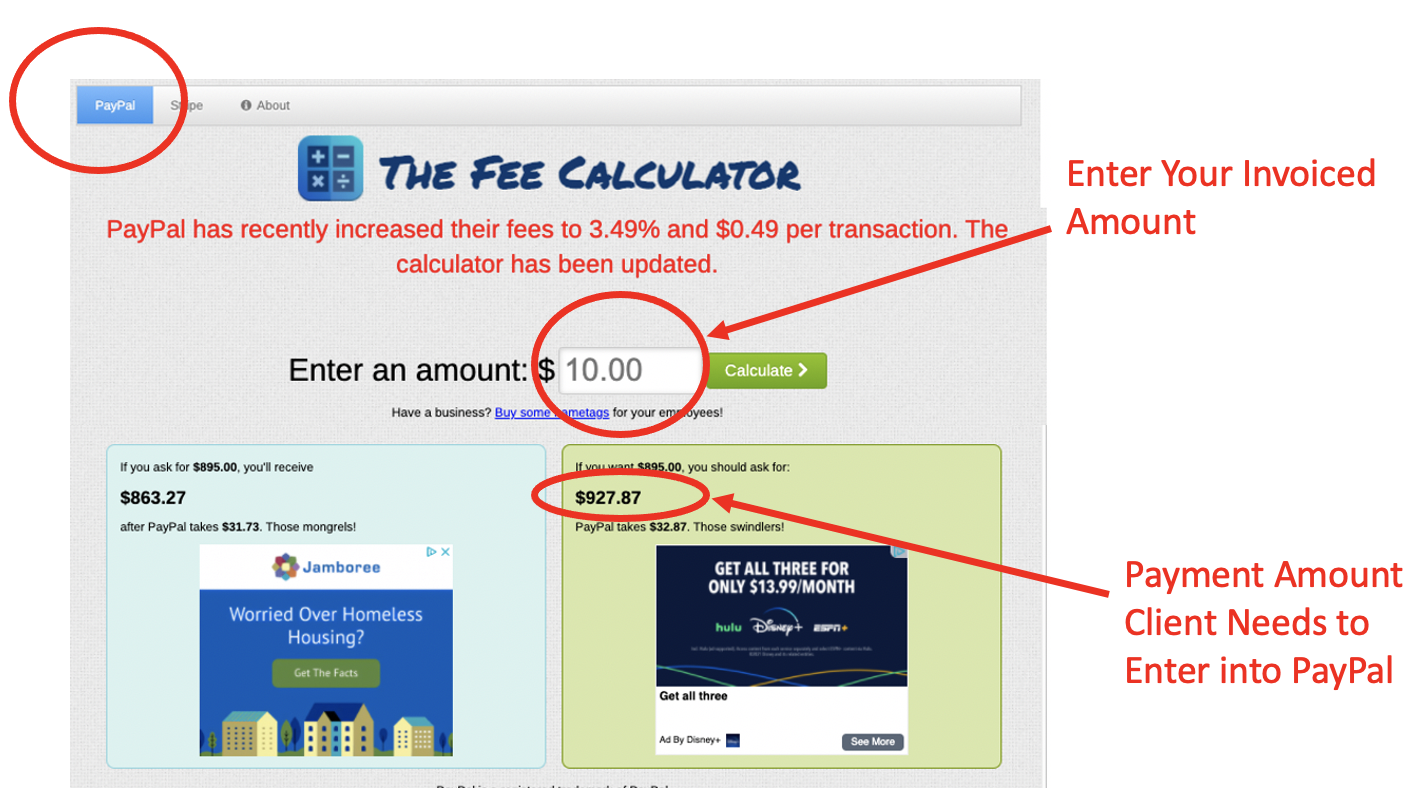 *Opticast Media Inc. has looked into other options to keep costs low e.g.: ApplePay, Venmo (Now Owned by PayPal) , unfortunately, those platforms are currently purposed for Personal not Business Accounts. We will continue to be on the lookout for cheaper payment options.